Featured
Featured
Featured

The new 2015 Lexus NX has now arrived at Lexus of Greenville and is available for delivery to your home or business!
Read This Article>

One step closer to self-driving vehicles and improved safety on the roads
When it comes to driving, nothing is more paramount than safety. That is why Lexus is coming out with a slew of new safety features starting in 2015.
Read This Article>

Wherever you live, the winter season can hold plenty of surprises—and not all of them good. If your vehicle falls prey to one of the many winter weather mishaps, you could be facing costly repairs to get it back on the road.
Read This Article>

Lexus is once again shaking things up in the luxury segment with the new 2015 Lexus LS. With several model choices available in the lineup, Lexus is making quite an impact on the market.
Read This Article>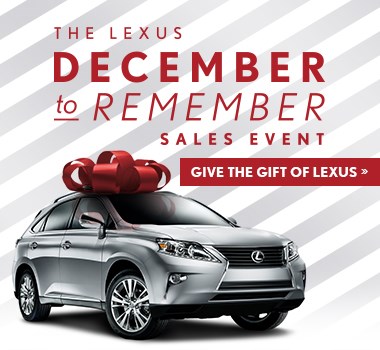 Auto Reviews
Auto Reviews
Auto Reviews

Lexus is known for building cars that are comfortable and reliable, but lately it's been trying to expand into the realm of the fast and the furious. The 2015 RC is the brand's first mass-market coupe since the ill-fated SC, and brings Lexus to a new level of sportiness and style.
Read This Article>
Articles
Articles
Articles
It's often said that a car is the second most expensive thing you will ever own, apart from your house, so it makes plenty of sense to make sure you take care of it. This is especially true if and when it becomes time to sell the car.
Read This Article>
Long holiday car journeys can not only be uncomfortable, but also are likely to give rise to passenger boredom, which can make everyone grumpy and irritable. This is especially the case with children, whose threshold for suffering long journeys is much shorter than adults. Where an adult might consider any journey over two hours in duration to be long, for a child, the definition of long is probably no more than a third of that time.
Read This Article>
Subscribe Now!
Sign up today to receive your monthly newsletter.
Special Offers
Special Offers
Special Offers
Detail Special
$30 Off
Get Coupon>
Expires Dec 31, 2014
Tire Rotation with Multi-Point and Break Inspection
$14.95
Get Coupon>
Expires Dec 31, 2014

Many car drivers use their vehicle every day, but from time to time it's necessary to consider long-term storage. Some people don't use their car over the winter months or need to leave the country for a while, and this means that it's time to store...
Read This Article>
When the weather gets cold, does your workout schedule suffer? Staying fit in the colder months is possible if you know how to stay on track.
Read This Article>
Location
Location
Location
Driving Directions
Sales Dept. Hours
Mon-Fri: 9:00 am – 7:30 pm
Sat: 9:00 am – 7:00 pm
Sun: Closed
Service Dept. Hours
Mon-Thu: 7:30 am – 9:00 pm
Fri: 7:30 am- 6:00 pm
Sat: 7:30 am – 5:00 pm
Sun: Closed